You want to know how many inspections are filled last month by user: Nancy Johnson and be able to export them in Excel. Learn here how you can sort and filter Capptions!
Go from your homepage to Capptions in the left side bar.
Next to the search field you will find two drop-down menus where you can select the filters.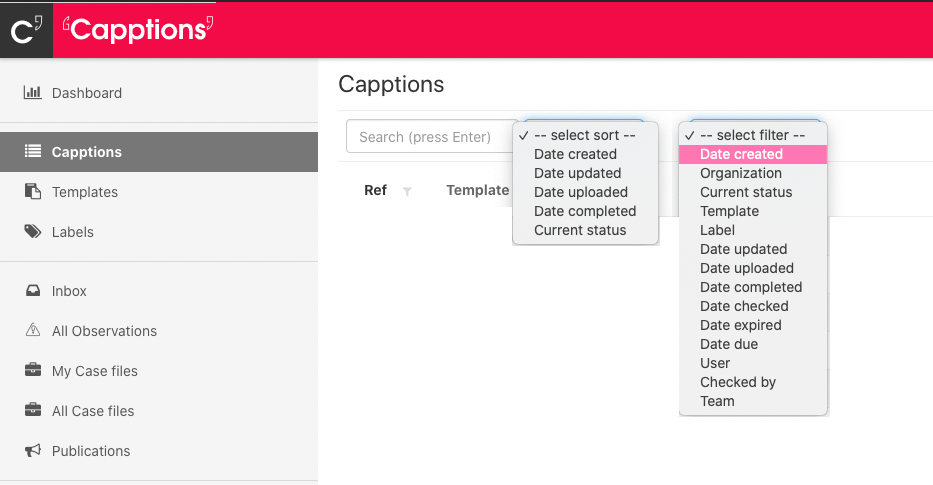 You can sort Capptions on:
Date created
Date completed
Date updated
Date uploaded
Current status
You can filter Capptions on:
Date created: use this to show Capptions from a certain period
Current status (e.g. Show all 'in progress')
Template (e.g. Show only 'Inspection Workplace')
Label (e.g. Show Capptions with label 'Not OK')
Date updated
Date uploaded
Date completed
Date expired
Date checked
User (e.g. Only show Capptions from Nancy)
Checked by (e.g. Only show Capptions checked by Nancy)
Team (e.g. Only show Capptions from team 'Office')
You can also filter on answers on a specific question. For questions in the identification section you can simply hit the filter button

next to Key.
Example
I want to check how many inspections were performed for a certain vehicle. I can easily find the inspections for this vehicle by its license plate which is set as the key identification.
If you are happy with your selection and want to save it for reporting or future purposes just hit the

button in the upper right corner.


And that's how you filter and sort your Capptions!