We all know the excel forms where you can repeat answering the same question by going to the next row. The same thing is also possible with the repeatable section! Where you can repeat the questions in a section.
Example
You want to answer the question: Who is the contact person, the address of the company and the name of the company? But you have multiple answers and want to have the option repeat the section so you can answer the same questions again.

You create questions in a section and the inspector can select the repeatable section to repeat that section. They can proceed answering the same question with different answers.
If you want this functionality added please contact us via: support@capptions.com

Create a section with questions and save it, if you don't know how to do this. See this article.

In the upper right corner of the section, you can find the repeatable button:

if you hit it the button will turn blue

Save the template and you are allowing the users to repeat that section!
How is this viewed in the app?
The inspector can fill in the information and hit the

to repeat the questions in that section.

The following screen will pop up to confirm you're performing the wished action.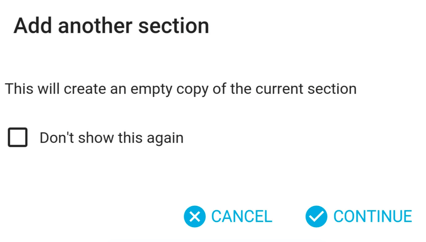 When you hit continue the new section is created and will show [2] in the title.
Now you can answer the same questions with different answers.


This is how this works! Have a question about this functionality? Feel free to contact us.