Actions can be created and assigned by users with 'manage Actions' permissions.
Create a new independent Actions
Independent actions can be periodic occasional actions created by managers/supervisors for their organization users. These are standalone actions and are not associated with any case files.
Steps:
- Go to 'Manage Actions'.

Fill in action title and description, both this values will be transmitted to the assignee.
- You have to fill the assignee, severity and due date.
- Post this by clicking on 'Save'.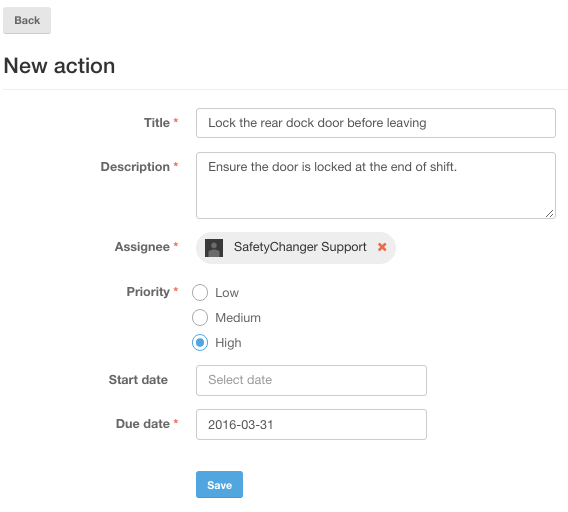 The moment you press 'Save', the assignee receives a notification on his mobile/email/web (based your organization's notification preferences).
Create corrective/preventive actions from case files
You can also create action from case files. Such actions stay associated with these case files for future tracking purposes.
Steps:
1. Go to any case file, for which you would like to create an action. (You need 'Manage Observation' permission for this)
2. Scroll down in the case file details page till you reach the 'Action' section. Click on 'create action'.

3. The following po-up will appear on the screen. Add the information needed (such as title, description, assignee etc.) and click on the OK button to create the action.
4. You can add more new actions by clicking on 'New', and proceed as illustrated in the previous section.