You've created an organization and want to create forms. You do this by creating templates. Templates are forms you can create for a user to fill out and capture data.
If you haven't created an organization yet, learn in this article how this works.

Create a new template
After logging in, get started by hitting the 'Get started' button in the lower middle.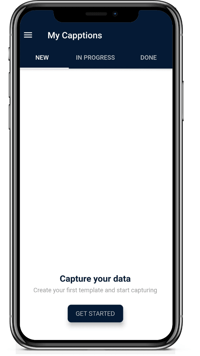 Hit the + button to build your own template to start capturing data. Fill out the template title, a description & introduction.

Title: Workplace inspection
Description & introduction: A form you can use to perform the monthly workplace inspection.

The user will see this information when he starts this template and creates a new Capption.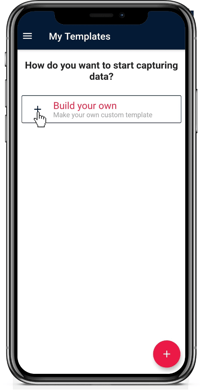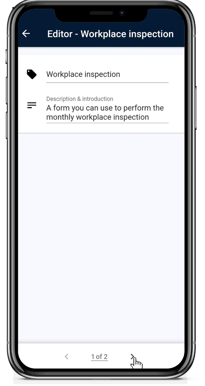 Give the section a name such as 'General information'.
Hit 'Question 1' to change the field to the question you want to ask. For example, what building are you inspecting?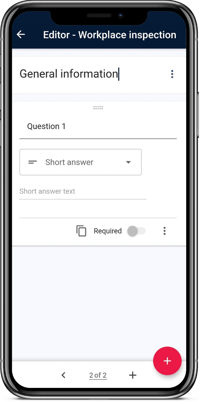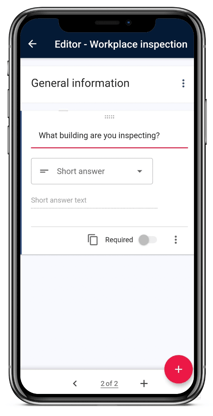 Hit 'Short answer' to get an overview of all answering types. You can choose one of the options that are already shown or create the options manually.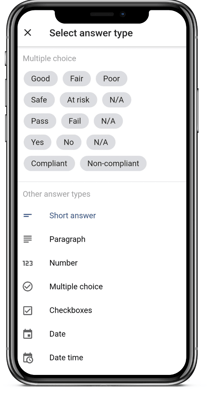 Answering types:
Short answer: One line free text
Paragraph: Multiple lines free text
Number: Numeric answer
Multiple Choice: Different answers to choose from
Checkboxes: Multiple answers to choose from
Date
Date and time

If you choose the answer type Multiple choice, for example, you can customize the options. These are the options the user will be able to choose from. Hit 'Add option' to create more answers.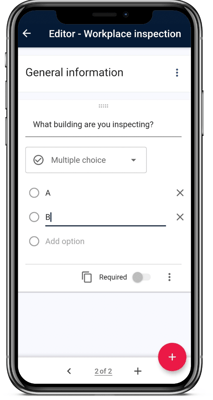 Hit the three points in the lower right corner of the section and a list of advanced options will appear.
=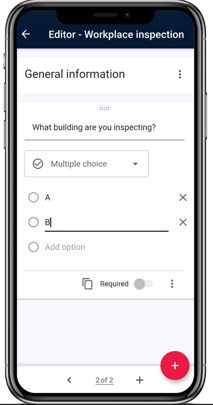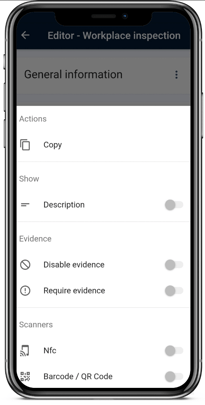 Advanced options
Copy: Clone this question
Description: Add a description to this question to help the user find the answer
Disable evidence: The user is not able to add evidence to this question
Require evidence: Make adding evidence mandatory
NFC: Make NFC scanning an option

If you want to make the question required to answer, hit the button in the lower right part.
If this shuffle is enabled, the user can't complete the Capption before this question is answered.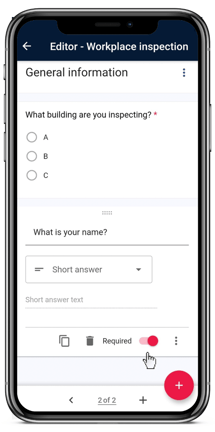 Create multiple sections and questions for a complete form and hit the button in the upper left corner to get an overview of the created template.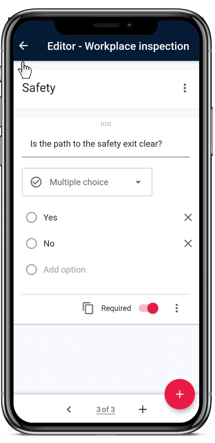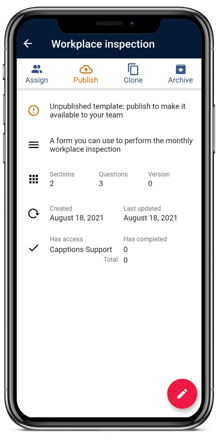 Assignments
To assign this template to a user hit 'Assign' and a list of available team members will show.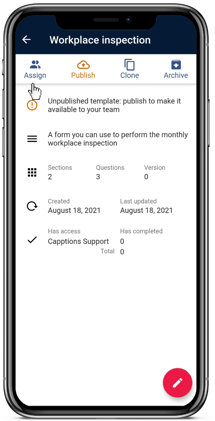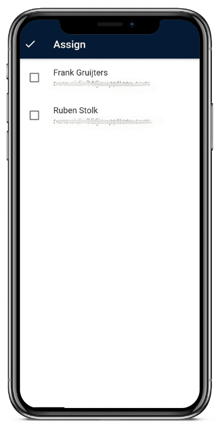 No users in this list? Learn here how to invite users.

Select the user(s) that need access to this template. Then hit to save this assignment.
In the overview, you can see that the access has been granted to 'Frank Gruijters'.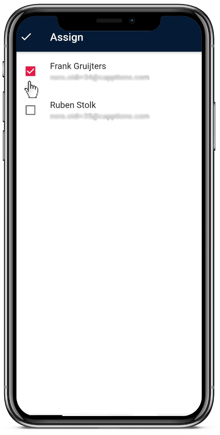 Publish
To make the template visible for the users you assigned. Hit 'Publish' and then 'Yes' to publish the template to assigned users.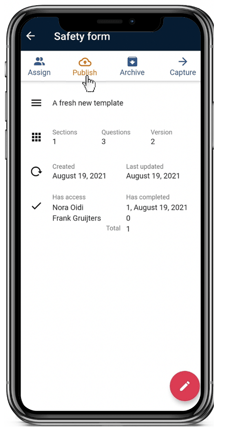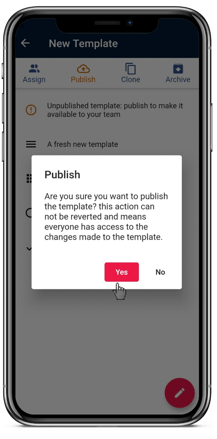 After publishing the template the assigned users can fill out the Capption. Curious how your created form will look in the app? Read this article.